Sale!
Microsoft Windows 7 Professional 32/64 Bit (1PC)
USD 136
The Windows 7 Professional 32/64 bit edition offers features of the Windows Home Premium version plus a few other attributes that makes the Pro release ideal for dual use at home as well as for small or medium sized businesses. Customer is free to choose which version of Windows 7 Professional they want during download process.
Part Number: MFR # FQC-08279
Description
Features
Every Windows 7 Professional download lets you enjoy the following features:
· Support for up to 2 CPU's which is ideal for business owners who have more than one computer used for business processes.
· Run on Windows XP Mode which is very convenient for those who are more familiar or at ease with the Windows XP setup.
· Microsoft Windows 7 Professional users can now create and also join Home Group.
· Added features such as Windows Mobility Center and Windows Aero are included with this version.
· Windows Media Center is improved for better entertainment experience. With this feature, you can enjoy Windows Media Player Remote Media Experience.
· The Encrypting File System adds another level of security which is designed to help protect important data.
· Setting up default printers for networks is now made easy when you download Windows 7 Professional with the help of Location Aware Printing.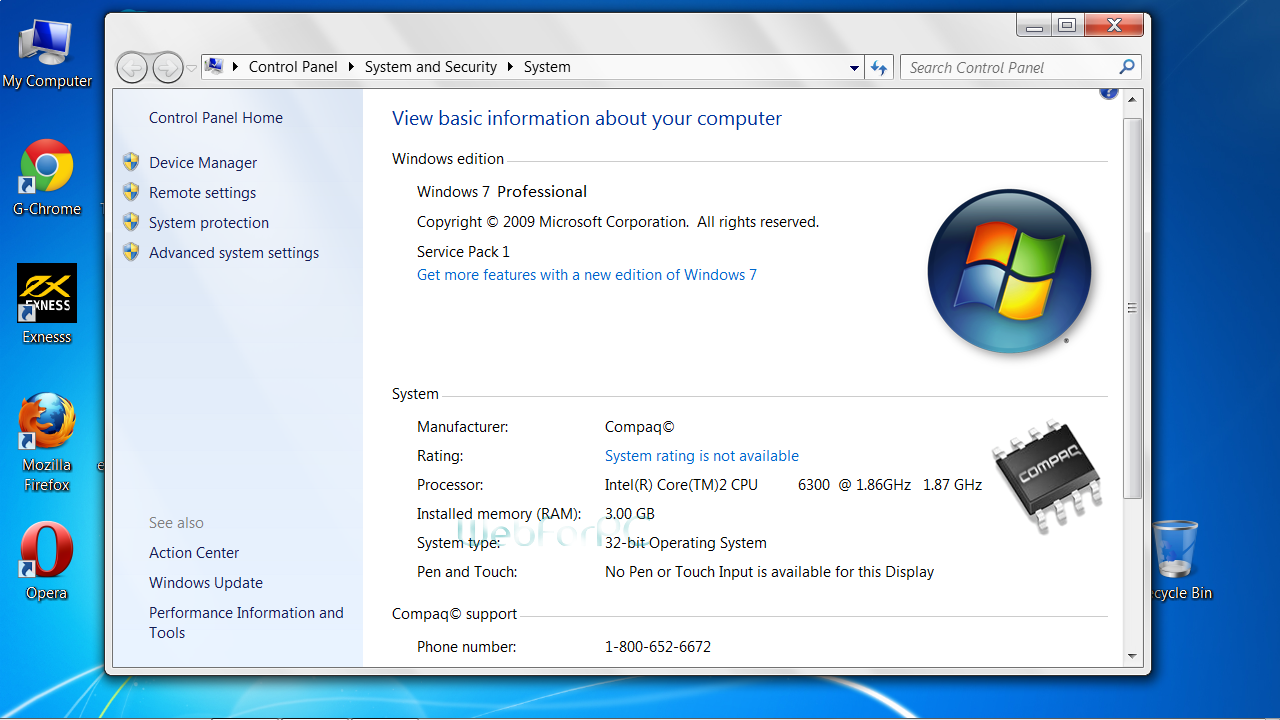 System Requirements:
Processor : 1 GHz or faster 32-bit (x86) or 64-bit (x64) processor
Memory :1 GB RAM (32-bit) / 2 GB RAM (64-bit)
Hard disk space: 16 GB available disk space (32-bit) / 20 GB (64-bit); for the download version, an additional 3 GB is required
Media drive: DVD/CD authoring requires a compatible optical drive
Video card: DirectX 9 graphics processor with WDDM 1.0 or later driver
Additional system requirements
Product functionality and graphics may vary based on your system configuration. Some features may require advanced or additional hardware.
Depending on resolution, video playback may require additional memory and advanced graphics hardware.
Some consumers have had issues when purchasing a new operating system for their PC because they end up buying a 64-bit version and their machine has a 32-bit system. These problems can be alleviated by installing Microsoft Windows 7 Professional 32/64 bit. This operating system software from My Choice Software is applicable to both systems and as genuine software from Microsoft, it is guaranteed to install, activate and work successfully on your computer. This operating system has a modern design style over its predecessors, including a new look task bar and the Snap window management system. Windows 7 also introduced Internet Explorer 8 and Windows Media Player 12 to the market. The Professional version of this software includes networking and security features for use by larger businesses including an encrypting file system and the ability for users to join a workgroup known as Windows Domain and was designed for use by medium and large businesses, but this operating system can also be installed on home computers.
Why buy from Digital Software Market?
Genuine resellers of Microsoft softwares & other major brands.
All products guaranteed authentic with manufacturer & hassle-free money back guarantee.
Speedy & efficient service to get you up & running in minutes.
Free Technical support from highly experienced specialists with every purchase.
Price beat guarantee on all products to ensure you receive the best deal possible.
100% SECURE CHECKOUT – 256-Bit SSL Enabled Secure Checkout with TLS 1.2 Encryption. 3D Secure – Verified by Visa, Master Passed.
This item does not contain a disc; it is a digital download only. See steps involved below. NOTE: If you already have the software already installed, you may activate simply by entering the key.
1.You will receive your product key, installation guide, and download link via email within 5 minutes up to 3 hours.
2.Install and enter your 25-digital product key as prompted.
3.Complete the installation via installation guide supplied in the details email.
4.Activate the product online.